Propose new value for a ever-changing society through digital innovation
Human society is approaching a new frontier where digital innovation enables the virtual and real worlds to intersect: Society 5.0.*At the same time, with public debate focused on the SDGs and other visions for a sustainable society, there is a need for people who can use AI technology to take the lead in uncovering and resolving issues, creating a brighter future.The Faculty of Media Creation trains creators who can generate new value with a broad knowledge of media and content in addition to business sense.Students develop multifaceted problem-solving skills across various fields, including education, medical care, urban design, economics, and entertainment. They use programming and other technology essential for cutting-edge creation to develop a society where all people can enjoy comfortable, positive, and exciting lifestyles.

* Society 5.0 refers to a new form of society, following the hunter-gatherer (Society 1.0), agrarian (Society 2.0), industrial (Society 3.0), and information society (Society 4.0). Proposed as a vision for the future of Japanese society under the 5th Science and Technology Basic Plan,Society 5.0 is a human-centered society that achieves economic development while also solving social issues, using systems that feature the high-level integration of virtual and physical spaces.




What You Will Study
Learn the basics of programming and content creation

Students acquire a basic understanding of the technological tools used to give shape to ideas and develop the logical composition skills needed to use these tools.They also learn basic computer programming skills.Taking advantage of the features of programming that enable easy collaboration with others, students deepen their practical learning in their topics of interest.Through workshops, students also learn about the production of music and video, approaches to collaborative work, and the characteristics of each medium.

Choose a course that matches your interest and develop content creation skills

Students pursue their own topics of interest in one of the following courses: Media Technologies, Image Creation, or Sound Creation.In addition to developing their own content creation skills, students also participate in corporate internships, learning how to move society forward and developing ideas for systems that can create new connections and new forms of entertainment.At the same time, students explore their ability to uncover challenges and the pathways to solving these challenges through technology.

Engage in hands-on projects at companies, government agencies, and other organizations

Students work on projects aimed at solving social issues in collaboration with various companies, government agencies, research institutions, and other organizations, focusing on their own research topics and technological expertise.They also acquire the ability to work together as a team to move projects forward and launch projects that create new value for society and learn how to establish these projects as businesses.

Give form to ideas through a graduation project and present problem-solving proposals to society

Students work on a graduation project, the culmination of their four years of study, giving shape to their ideas and communicating them to others.They leverage the knowledge they have gained through internships and problem-solving courses and combine ideas and technologies to present society with concrete proposals that will help to solve social issues.
Course Subjects
Year 1 (Cross-Listed Courses)
Laying solid foundations with mandatory programming classes
In their first year, students learn how to use a wide variety of tools that form the basis for using cutting-edge technology.They take mandatory programming classes to learn how to build programs using computer languages such as Python, broadly used in video games and business applications.
Learning the basics of music and video production
Students attend lectures and seminars to learn the basic skills needed for content creation.They gain an understanding of the various elements that constitute music and video and the specific characteristics of each medium. Through participation in production workshops, they learn how to operate equipment and study the procedures involved in creating content as well as approaches to collaborative work.
In their second year, students select one of three Courses
Three elements are necessary to create new connections and new forms of entertainment: hearing, seeing, and communicating.Students undertake comprehensive study, encompassing means of communication such as technology and programming and content that appeals to both the auditory and visual senses.
Developing practical skills through learning to solve social issues
Through practical classes held in collaboration with companies, students learn diverse ways to give form to their ideas and share them with the world.We provide plenty of opportunities for students to apply the knowledge and skills they learn on campus in a business setting. These opportunities enable them to not only create entertaining content, but design proposals for promoting change and making life more convenient.
Internships

Students gain short-term work experience at a company in their chosen field or an industry where they want to expand their skills. These internships help them develop their work ethic, develop their imagination, and hone communication and other soft skills.

Projects

Students collaborate with companies to implement projects that address social issues.Students develop the ability to understand societal needs and work as a team in every step of the project, from planning to implementation.
Learning Outcomes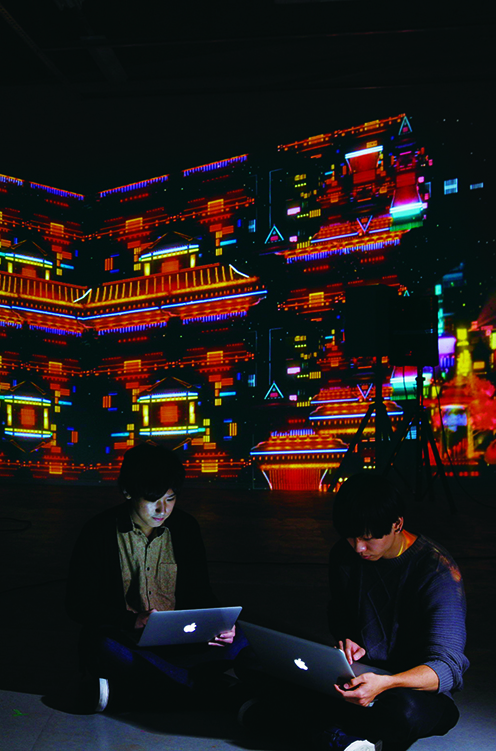 ■ Learn to combine cutting-edge technologies to provide new value to society
Students acquire the skills needed to utilize the latest technologies, including programming, AR, VR, and app development, as well as the ability to combine these media to provide new value to society.

■ Engage with society, explore society, and learn technical skills
While still at the Faculty, students participate in collaborative projects with companies, research institutions, and other organizations. These opportunities help them acquire the technical skills they will need to work at the cutting-edge of industry upon graduation. They also equip students with tools for conveying their interests and the ideas they wish to communicate.

■ Find a unique form of expression with the support of experienced academic faculty
Students are taught by professionals active in the field, who create unique content using AI and IoT technologies.They learn about techniques and review case studies from various fields and explore possibilities for their own unique form of expression.
Course Highlights
Media Creation Literacy

From familiar objects such as smartphones and computers to video content and music events, students acquire a comprehensive and practical foundation upon which they can understand, apply, and communicate a wide variety of media.

Programming

Students learn image processing and HTML, as well as JavaScript, the foundation of programming.They also learn how to handle 3D images by creating mini-games using the 3D engine Unity and practice using Python with AI and robots.

Content Business I

Students use case studies to learn about copyright in Japan.They review their basic knowledge and practical understanding of copyright as they learn about the structure of the music industry and the history of copyright in Japan and around the world.Students also consider the payment and allocation of royalties for the use of music.

Media Mix Theory

Students focus on the structure of transmedia franchises, where value is created through the interaction of diverse forms of expression, including music, video, animation, games, websites, and events. Students study the impact of these structures on consumers, their function as businesses, and their history.
Careers
IT-related companies
Content production companies
Media-related companies
Ad-related companies
Event management-related companies
Planning / public relations / information departments of general companies
Entrepreneurship
Media Creator
Video Creator
Acoustic Designer
CG Designer
Programmer
and many more
About the Faculty of Media Creation
Voice
HIRAYAMA Yuuki

Current Student

Exploring an interest in esports through a second-year internship

I chose the Faculty of Media Creation because it offers traditional classes for learning about information technology, such as programming, and hands-on classes where I get to create videos and other kinds of content. I'm interested in both of those, which made this seem like the perfect faculty for me. Also, before coming to Kyoto Seika, I wasn't sure which field I wanted to pursue, so I thought I would benefit from being able to study a wide variety of fields in my first year before choosing a major in my second year.

One of the first-year classes that left a lasting impression on me was Media Creation Literacy 1, taught by Prof. Takayasu Kuroda. With a long career at the intersection of technology and entertainment, his lectures were always full of interesting insights. I was also captivated by the presentations of guest lecturers who visited our class. Internships start from our second year, and I'm really looking forward to that. It seems like I'll learn a lot, and I'm excited to experience working at a company and learn what leaders in the industry are thinking about. While taking various classes, I developed an interest in marketing and web development, and in my second year, I plan to major in the Media Technologies Course, which offers a full range of subjects on those topics. I am still thinking about what to do after graduation, but I'm interested in working in the entertainment industry, esports in particular. I want to gather as much knowledge and experience as I can, both on and off campus, to prepare for wherever my career takes me.

(Interview held in December of student's first year)

HIROSE Chikari

Current Student

Distilling a diverse range of study into avant-garde video art

I've been interested in filmmaking since high school. What makes the Faculty of Media Creation unique is that students study more than just film itself. We also explore a wide range of related fields by looking at the material from the broader perspective of media. That's what drew me to Kyoto Seika and this faculty in particular. In fact, the curriculum is made up of classes that cover a wide variety of fields. Since coming to Kyoto Seika, I have been able to try my hand at many different things, like creating sound art, taking pictures, and controlling robots. And, of course, I've taken video production classes as well. In one class, we had to create a video montage by combining a bunch of short scenes. At first, I was overwhelmed by the schedule as we had just one week to plan, shoot, and edit the video, but I was also inspired by how creative my classmates were and the works they produced.

This past year of studying at the Faculty of Media Creation has had a profound impact on my interest in video and sound, and in my second year, I'm planning to major in the Image Creation Course. In the future, I would like to research sound and how it is used to complement video, such as soundtracks for film and television. However, I don't want to focus solely on video and sound. I also want to learn as much as I can about other interesting subjects that I may discover during my studies. I think that will allow me to absorb various ideas and techniques in order to create visuals using new methods of expression not bound by conventional formats. I hope that this will allow me to one day create works of art that are inspiring to others.

(Interview held in December of student's first year)

YOSHIKAWA Masataka

Academic Faculty

Creating new values that will change society

Until now, people may have heard the word "media" and thought of TV or smartphones. But in the age of IoT, when everything is connected to the Internet, home appliances and vehicles will also be mediums for transmitting information. As media diversifies, many new types of content and services will continue to change our lives and transform society as they are created. And the Faculty of Media Creation is educating the people who will create this new world.

One thing that makes the faculty unique is its mandatory programming classes. These classes are mandatory because programming knowledge and skills are essential for innovation in an increasingly digital world. However, it is not just about acquiring techniques, which are only a means of solving a problem. You must first have an idea of what you want to achieve or create and then acquire the knowledge needed to achieve your goal.

An emphasis on making connections in the community is another thing that sets the Faculty of Media Creation apart. What we call media can only exist when there are people there to receive it, and that information continues to change in response to how people react to it. That is why we encourage students to engage in communication and plan to establish classes and other programs in collaboration with corporations. We hope that students will learn the thrill of engaging with the community, receiving feedback, and incorporating that experience into their work.

Once you come to Kyoto Seika, we will challenge you to use media to create new values that will change people and society. There are no restrictions on theme or format, and you may end up revolutionizing the entertainment world by creating never-before-seen visuals or building a groundbreaking service that will help achieve the United Nations' Sustainable Development Goals (SDGs). At the Faculty of Media Creation, I am committed to helping train the professionals that will be entrusted with shaping the future of Japan and the world.