Student dormitory with meals provided (suitable for students living away from home for the first time)
In April 2019, Kyoto Seika University opened Kino-ryo, a new student dormitory located a 12-minute walk away from campus.
There are 70 rooms altogether in the north and south buildings. Home-cooked meals designed by a professional nutritionist are served in the mornings and evenings. The buildings are equipped with auto-lock systems, security cameras, and Wi-Fi for comfort and security, particularly for students living away from home for the first time.
Each room comes furnished with essential furniture and appliances, including a bed, refrigerator, and desk, which helps cut down on initial living costs.
In addition to private rooms, common areas are provided for students to spend time with friends. Group activities and discussions are opportunities to get to know fellow dorm students.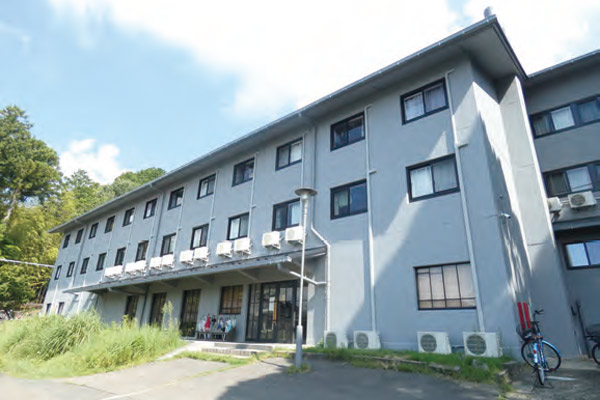 Key features
High-speed fiber optic internet
Fully furnished rooms
Morning and evening meals included (Monday to Friday)
Kino-ryo specifications
Room
Room

Room

Room

Room

Living area
Shared facilities
Lounge (Exchange room)

Cafeteria

Washbasins

Toilets
Summary of Kino-ryo (affiliated with Kyoto Seika University)
Location

Iwakura Kinocho, Sakyo-ku, Kyoto (12 minutes' walk from the university)

Number of Rooms

North Building: 18 single-occupancy rooms (1F is men only while 2F is women only)
South Building: 52 single-occupancy rooms (2F/4F/5F are women only, 3F is men only)

Facilities


[Shared Facilities]
Lounge (exchange room), kitchen, shower rooms, toilets, washroom, laundry room, auto-lock, Wi-Fi, bicycle parking lot
[Dorm rooms]
Air-conditioning, refrigerator, bed, desk, chair, Wi-Fi

Rental contract period

Two-year contract (contracts are available only during your period of attendance at the university)

Residence period

Up to 4 years

Rent

24,000 yen/month (10.12㎡) – 30,000 yen/month (13.05㎡)

Utility Fee

8,000 yen/month

Meals

28,000 yen/month (Monday to Friday, morning and evening)

Wifi/Other miscellaneous charges

3,000 yen/month (including Flat Club subscription and fire insurance) (Scheduled amount)

Initial entrance fee

1 month's rent

Renewal fee

1 month's rent

Kurashido 24 subscription (Student living assistance)

15,000 yen + tax / 2 years
*Affiliated dormitories are dormitories where a management company with which Kyoto Seika has an arrangement handles day-to-day management and operations. Kino-ryo is managed and operated by flatagency Co., Ltd. in collaboration with the university.