Master the Power of Manga to Connect the World
Kyoto Seika University is the first and only university in Japan to have a dedicated Faculty of Manga, with five major courses of study: Cartoon Art, Comic Art, New Generation Manga, Character Design, and Animation. Students receive direct instruction from manga artists, illustrators, animation directors, and other leading professionals in the industry, with many of our students making their debut as artists while still at university.
Three Distinguishing Features
Direct instruction by leading professionals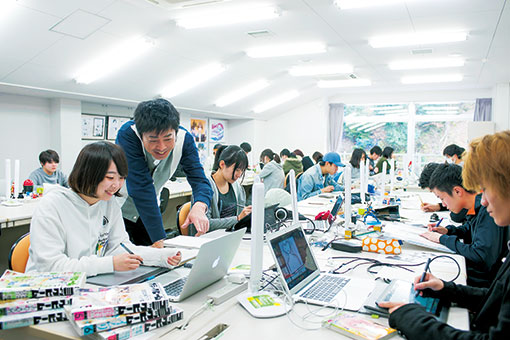 The teaching staff at the Faculty of Manga are all leaders in manga and animation, which sets Kyoto Seika University apart from any other program in Japan. Students learn the tricks of the trade firsthand from instructors and their experiences, discovering how to create works that grab the hearts and minds of their audience.
A variety of courses for a breadth of expression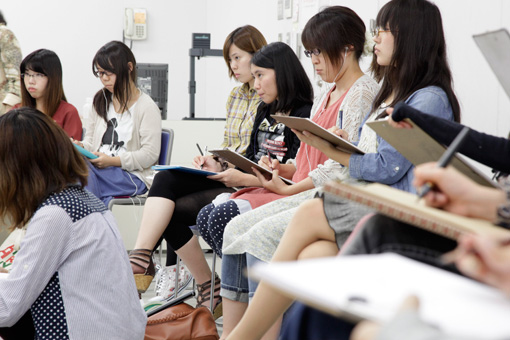 We offer a full range of practical subjects common to the entire faculty that students in all five courses can take. Students can choose subjects that match their course of study or future career path and acquire a breadth of expertise beyond their area of specialization, greatly expanding their range of creative expression. There are plenty of courses for students to build practical skills that range from drawing and sketching for game design to editing and proofreading, which help students find employment after graduation.
Countless career debuts by students and alumni alike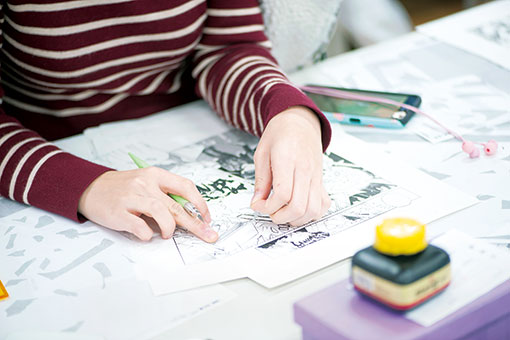 Each year, students at the Faculty of Manga win awards and make their career debuts. That is because we have a curriculum that equips students with the skills they need to succeed professionally and a system that helps launch their careers. Many of our graduates are involved in long-running manga series and other works that have become animated series and live-action movies.
Notable Alumni
- OHNO Kousuke (manga artist), The Way of the Househusband, etc.
- ENOKIYA Katumasa (manga artist), Hibi Rock, etc.
- KANESHIRO Muneyuki (manga artist), As the Gods Will, etc.
- OIMO Mio (manga artist)
- UEDA Kyu (manga artist), Mayoi Tomadoi is Totally Wily, etc.
- ISUMI Masaki (manga artist), Watashi no Bodyguard, etc.
- Junaida (painter)
- ISHIDA Hiroyasu (animation director),Penguin Highway
- SHIRAI Takana (animation director), Children of Kamiari Month, etc.
- HAMANO Yuka (illustrator), 13 Year Old Hello Work, etc.
- NANATSUKI Takafumi (author). My Tomorrow, Your Yesterday, etc.
- Est Em (manga artist), Ii ne! Hikaru Genji-kun, etc.
Course Descriptions
Department of Manga
About the Faculty of Manga