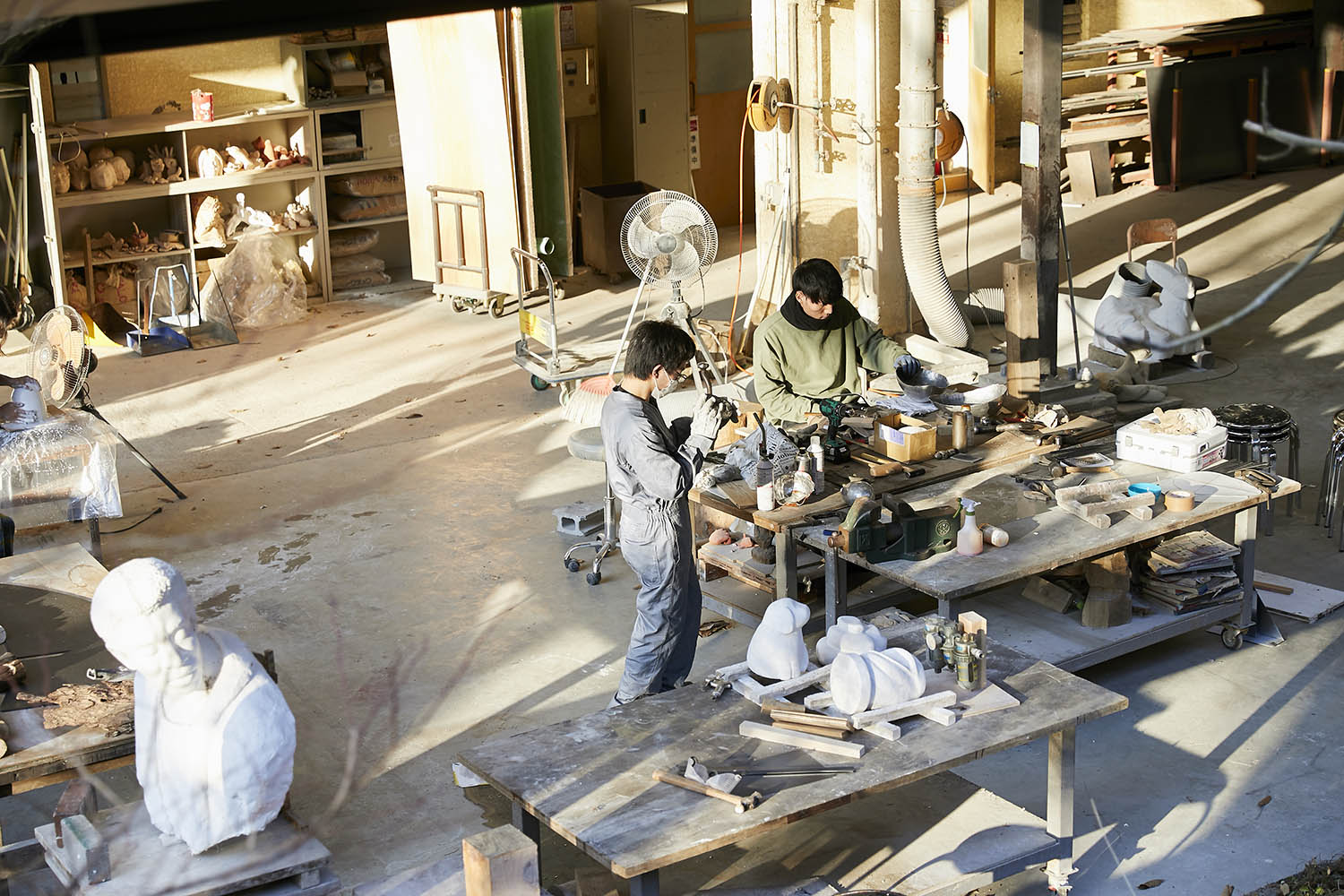 Kyoto Seika University was founded in 1968 on the educational principle of "respect for humanity" based on the Universal Declaration of Human Rights and the Japanese Constitution.Over the half-century since then, we have strived to educate artists and creators who can change the world through a curriculum that teaches culture and the arts.
In 2018, we celebrated the 50th anniversary of the university's founding and launched VISION 2024 SEIKA, a major restructuring plan for the next fifty years.This plan is a testament to Kyoto Seika's commitment to furthering culture and creative expression through reforms that include organizational reform and global exchange activities to build upon our existing strengths as a university: creative expression, the liberal arts, and a global outlook.
Kyoto Seika University has begun its journey toward this new plane of learning.To achieve this vision, we are making drastic efforts to cut costs wherever possible, but the reality is that we need your help.
We humbly ask for your financial support and cooperation as alumni, parents, and the local community band together to build an even better Kyoto Seika University.
Individual Donations
If you would like to make a donation as an individual, please click the button below.
How Your Donation Is Used
1. Support for Facility Maintenance
Donations received for facility maintenance will be used for the construction of new buildings and the installation of new facilities and equipment.
What Can Be Achieved with Your Support
A new building, tentatively named "Shin-Meiso-kan," is currently under construction next to Amagaike Pond.Slated for completion in Spring 2022, Shin-Meiso-kan brings together the three values of VISION 2024 SEIKA that embody the spirit of our university: creative expression, the liberal arts, and a global outlook.Students will use this building as a new place of learning that incorporates the following functions, as outlined below: GLOBAL, COMMUNICATION, ACTIVITY, and LEARNING.We ask for your support as we prepare for the launch of this latest addition to our campus.

GLOBAL: The building will be equipped with a global lounge and cafe where students can gather regardless of faculty or nationality.The space can also be used as place to present research findings or have parties and other events.
COMMUNICATION: The building will have a large theater and gallery open to the public for lectures and exhibitions.The theater will have a seating capacity of approximately 500.
ACTIVITY: A rooftop terrace and a large terrace facing the Amagaike pond will provide an open space for casual exhibitions.Inside, there will also be a soundproofed stage.
LEARNING: The building will have several meeting spaces that can be used for discussion-based seminars or as galleries.
2. Support for Student Life
Kyoto Seika University has established a variety of scholarships and tuition waivers for domestic and international students to keep them from quitting school due to financial reasons. Our mission is to provide support so that students never have to give up on their education.
What Can Be Achieved with Your Support
Many students were affected by the novel coronavirus (COVID-19) pandemic in 2020.In response, Kyoto Seika provided a flat amount of 50,000 yen to all current students as part of an emergency package to help students continue their studies. We also expanded the scholarship to provide for students with sudden changes to family finances.As COVID-19 is expected to continue to have a significant impact on our student lives, we are committed to providing support for our students, starting with the expansion of our scholarship programs.Please lend your support to this program, so that students don't have to make the choice to give up on their education.

3. Support for Research & Cultural Activities
Donations received for research and cultural activities will be used for Kyoto Seika's free public lectures and experiential workshops in addition to the maintenance and operation of our cultural facilities and satellite spaces.

Main Lectures: Assembly Hour Lecture / Okamoto Seiichi Memorial Lecture
Main Cultural Facilities: Kyoto International Manga Museum / Kyoto Seika University Satellite Space Demachi
What Can Be Achieved with Your Support
Kyoto Seika University, in cooperation with the City of Kyoto, operates the Kyoto International Manga Museum, which conducts research on manga culture, organizes exhibitions and events, and collects, archives, and exhibits valuable manga materials.The number of tourists has decreased significantly due to COVID-19, resulting in a significant drop in museum revenue.We ask for your financial support so that we may continue collecting and archiving valuable manga materials.

In February 2021, we opened the Kyoto Seika University Satellite Space Demachi on the second floor of Demachiyanagi Station on the Eizan Railway.It was designed to be a place to improve the education, research, and cultural capital of neighborhoods along the railway, and we ask for your help in revitalizing these communities.

The Assembly Hour Lecture has been held for nearly 50 years since our founding. The Okamoto Seiichi Memorial Lecture bears the name of Kyoto Seika's first president and has been live-streamed to YouTube and other video streaming platforms, where it can be viewed by audiences in Japan and abroad.We ask for your support so that we can continue to hold these events.