A multicultural environment where international and Japanese students live together
In March 2017, we opened a new international student dormitory, Shuko-kan, located just a 10-minute walk from campus. The dormitory provides a practical educational environment where international and Japanese students can live together, develop international perspectives through mutual understanding, and learn about different cultures through exposure to diverse values.
The dorm is open to first-year students for a period of one year, with each room occupied by one international student and one Japanese student. (For the 2021 academic year, all rooms will be single occupancy as a precaution against COVID-19) Senior students also live in the dormitory as resident assistants (RA) and support students in their daily lives. Programs and events are held in the common area to help students learn more about each other's cultures. These activities build a sense of community and educate students about diversity on campus.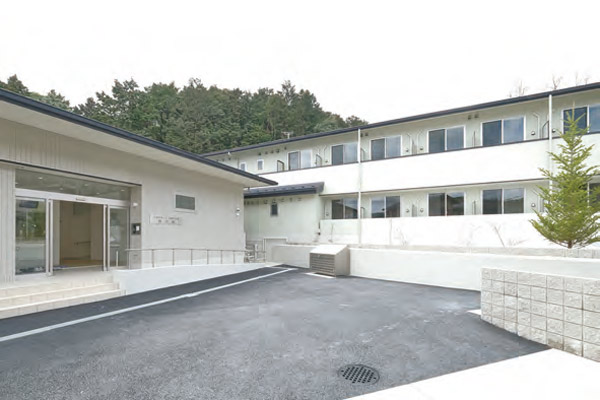 Objectives of the International Student Dormitory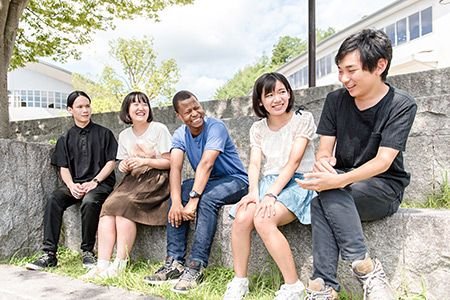 To help students appreciate diverse values and live in harmony with people of different cultures
To help students establish their own identity by seeing their own cultural background in a new light
To help students learn to communicate their thoughts and opinions and act independently
A Look Inside Shuko-kan
All student rooms feature a loft bed, desk, chair, closet space, air conditioning, lighting, and internet access

Hallway to student rooms

Loft bed

Rooms also have key card locks and an intercom system
Shared Facilities
Kitchen and Commons

Washroom

Mailboxes

Bathrooms

Washing Machines and Dryers

Dorm Supervisors' Office
Resident Assistants
Resident Assistants (RAs) are live-in second- to fourth-year undergraduate students who provide support and assistance for dormitory (first-year undergraduate international and Japanese students) in their daily life. RAs interact with a wide range of Japanese and international students on a daily basis, enabling them to develop global sensibilities and language skills without leaving Japan. Being an RA is also an opportunity for students to develop their social awareness and leadership skills and grow as individuals. RA applications can be made via the Seika Portal around November or December each year. If you are interested in international exchange experience as an RA, please apply!
2019 Resident Assistant
Ayumi Tomoshige (Faculty of Design)
Being an RA has changed my outlook. I'm now much better at seeing the bigger picture when I deal with other people. Rather than just thinking about my own point of view and sometimes acting a bit hastily, being an RA has helped me learn to appreciate the personalities of each resident and respond to their individual needs. I am a member of the Faculty of Design, and at first, I wasn't sure how to bring that design perspective to my responsibilities as an RA. It wasn't easy to find a way of doing things that worked for me. I also worried about what the other students thought about me. But despite all the anxiety and change, I had so much fun! What I enjoyed most was communicating with others. The conversations I've had with different people as an RA have been so inspiring. The inspiration and experience I have gained are a source of knowledge that I will be able to draw upon throughout my student life. Hopefully, future RAs will also enjoy this position and express themselves to help create a new vision of what the dormitory can be.
2019 Dormitory Resident
Julius Mikola (International student, Turku Arts Academy, Finland)
I was very nervous when I first arrived in Japan and came to Kyoto. The RAs and my fellow students at Shuko-kan were always available to show me the ropes and helped me adjust to life in the dormitory and on campus. They were such a big help! I'm quite a shy person, so the regular dormitory meetings, events, and parties held by the RAs were a big help. They allowed me to get to know the other residents and improve my Japanese. Interacting with the other Japanese students in the dorm also helped me discover similarities between my own country and Japanese lifestyle and education. I also loved learning about their interests and perspectives.
I will always cherish the memories of my time at Kyoto Seika University and will always be grateful to the RAs and the other residents for helping me get started with university life in Kyoto.
Overview of International Student Dormitory Shuko-kan
Location

Iwakura Hataedacho, Sakyo-ku, Kyoto (10-minute walk from campus)

Number of rooms

35 (each room occupied by one international student and one Japanese student)
*For the 2021 academic year, all rooms will be single occupancy as a precaution against COVID-19

Eligible students

First-year undergraduate students (Japanese and international), international students from overseas partner universities

Period of residence

One year

Move-in fee

10,000 yen

Rent

30,000 yen/month

Maintenance fees

5,000 yen/month

Fire insurance

Approx. 3,440 yen/year
*For domestic students only (International students will enroll in a separate international student insurance scheme)
*Eligible students will be notified of the application process as required