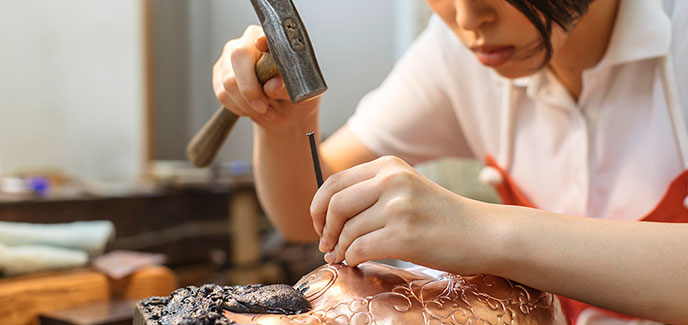 Kyoto Seika University offers special practical training programs and lectures on traditional culture where students can receive direct, on-site instruction in traditional crafts and industries and experience living traditions.Students are encouraged to take advantage of this unique experience to learn about Kyoto's craft heritage.
Practice on Traditional Industry of Kyoto: Experiencing tradition and learning from master artisans
Every summer, Kyoto Seika offers the "Practice on Traditional Industry of Kyoto" course, which provides students with two weeks of practical training at a traditional arts and crafts workshop in Kyoto.

Students from all faculties are eligible to apply.Some students in the Faculty of Manga paint ceramics while others in the Fashion Course attend a kumihimo braid-making and natural dye studio or investigate the relationship between graphic design and kimono designs.These learning experiences will surely prove invaluable in their lives.
This course was first offered in 1979 and has continued for over 40 years,with more than 3,500 students having attended to date.Many of our alumni have used this course as an opportunity to become involved in traditional arts and crafts.The course is also popular among international students.
Examples of workshops used in the program
- Textiles
- Kyoto-style embroidery (Kyo-nui)
- Dyeing and weaving (Kyo-yuzen)
- Natural dyeing of braids (Kumihimo)
- Handmade Echizen-style Japanese paper
- Handmade Kurotani-style Japanese paper
- Paper-covered sliding doors (Kyo-karakami)
- Kyoto-style printmaking (Kyo-hanga)
- Kiyomizu ningyo
- Ceramics and Porcelain (Kyo-yaki/Kiyomizu-yaki)
- Lacquer crafts
- Bamboo crafts
- Woodworking crafts
- Kyoto doll-making (Kyo-ningyo)
- Kyoto-style inlay (Kyo-zogan)
- Metal work
- Kyoto-style mounting and restoration of cultural assets
- Kyoto-style landscaping and gardening
- Incense
- Tea caddies
Lectures to make practicum more meaningful
Our Public Lecture Series on the Traditional Crafts of Kyoto invites a distinguished lineup of lecturers keeping the beauty of Kyoto's tradition alive.
Researchers, authors, artisans, designers, and lecturers from a variety of fields related to Kyoto's traditional arts and crafts give lectures on their area of expertise.This lecture series (all in Japanese) is open to the public at large.
Japanese Traditional Culture: Wa presents an in-depth study of the characteristics and significance of traditional Japanese culture and art.Japanese Culture: Wa
Students study a wide range of genres of traditional Japanese culture, including Noh, kabuki, tea ceremony and ikebana, which have been passed down through the generations to the present day.Students learn about the connections between various facets of traditional culture and how they are applied in society today.