About half of Kyoto Seika students live on their own.
Our campus is located in the northern part of Kyoto City in an area surrounded by natural beauty and is just a 10-minute shuttle bus ride from Kokusaikaikan Station on the Kyoto Municipal Subway. The campus is also conveniently located near Kyoto-Seikadai-Mae Station on the Eizan Railway. From there, it is only a 30-minute trip to the city center (Gion-Shijo Station).
Kyoto is renowned worldwide as a center of traditional culture and art. As soon as you step outside of campus, you will be surrounded by an abundance of cultural facilities and World Heritage sites. Living in Kyoto is an opportunity to experience the city's 1,200-year history, which is still a part of daily life here.
We are sure you will find a part of the city that feels like home, and the history of the city will no doubt find its way into your art and your research.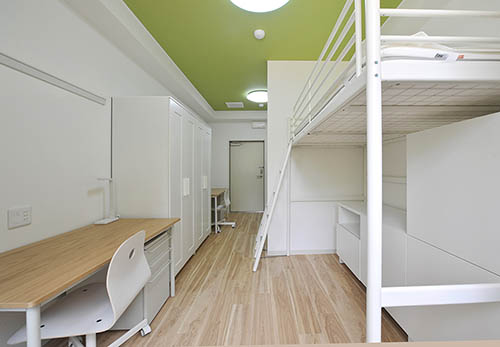 Dormitories
We have two unique student dormitories, both located near campus.
The Shuko-kan is an international student dormitory where students can develop their international sensibilities and learn to appreciate diverse values and cultures. At the Shuko-kan, Japanese and international students live together, with senior residence assistants (RAs) who provide support and assistance for their dormitory life.
Our other dormitory is the Kino-ryo, which offers morning and evening meals served by live-in catering staff. The building prioritizes student safety and security, and is equipped with security cameras and an auto-lock system.
Boarding Houses
If you are looking for boarding houses, we can recommend agencies that partner with the university. English language assistance is also available.
Kyoto Seika University Area
Average rent: 48,000–56,500 yen
Average room size: 12.8–16.4m2
This is the closest area to Kyoto Seika, and all rooms are within walking distance of campus. Compared to other areas, buildings here are newer and many are newly furnished.
Iwakura Area
Average rent: 10,000–25,000 yen
Iwakura is a 5-minute bicycle ride from campus and just two stops away on the Eizan Electric Railway. This is a convenient area with supermarkets, convenience stores, and a hospital nearby. There are also many communal boarding houses here with very affordable rents.
Kokusaikaikan Station Area
Average rent: 44,500–64,000 yen
Average room size: 12.8–16.4m2
This area is close to the Kokusaikaikan subway station, and students can easily get to and from campus using our free shuttle bus service. Popular with students, the area has a variety of supermarkets, drugstores, restaurants, and convenient access to Kyoto Station and the city center.
Kitayama/Matsugasaki Area
Average rent: 50,000–70,000 yen
Average room size: 11–18.6m2
Kitayama/Matsugasaki is a quiet residential area that is popular with families. As a cultural center, it features a prefectural botanical garden and a concert hall, making rent here higher than average.
Shugakuin/Ichijoji Area
Average rent: 35,000–65,000 yen
Average room size: 11–16.4m2
Shugakuin/Ichijoji is a student neighborhood with plenty of good value restaurants and bookstores. This area is full of specialty art and design shops as well as cafes, making it popular among art students.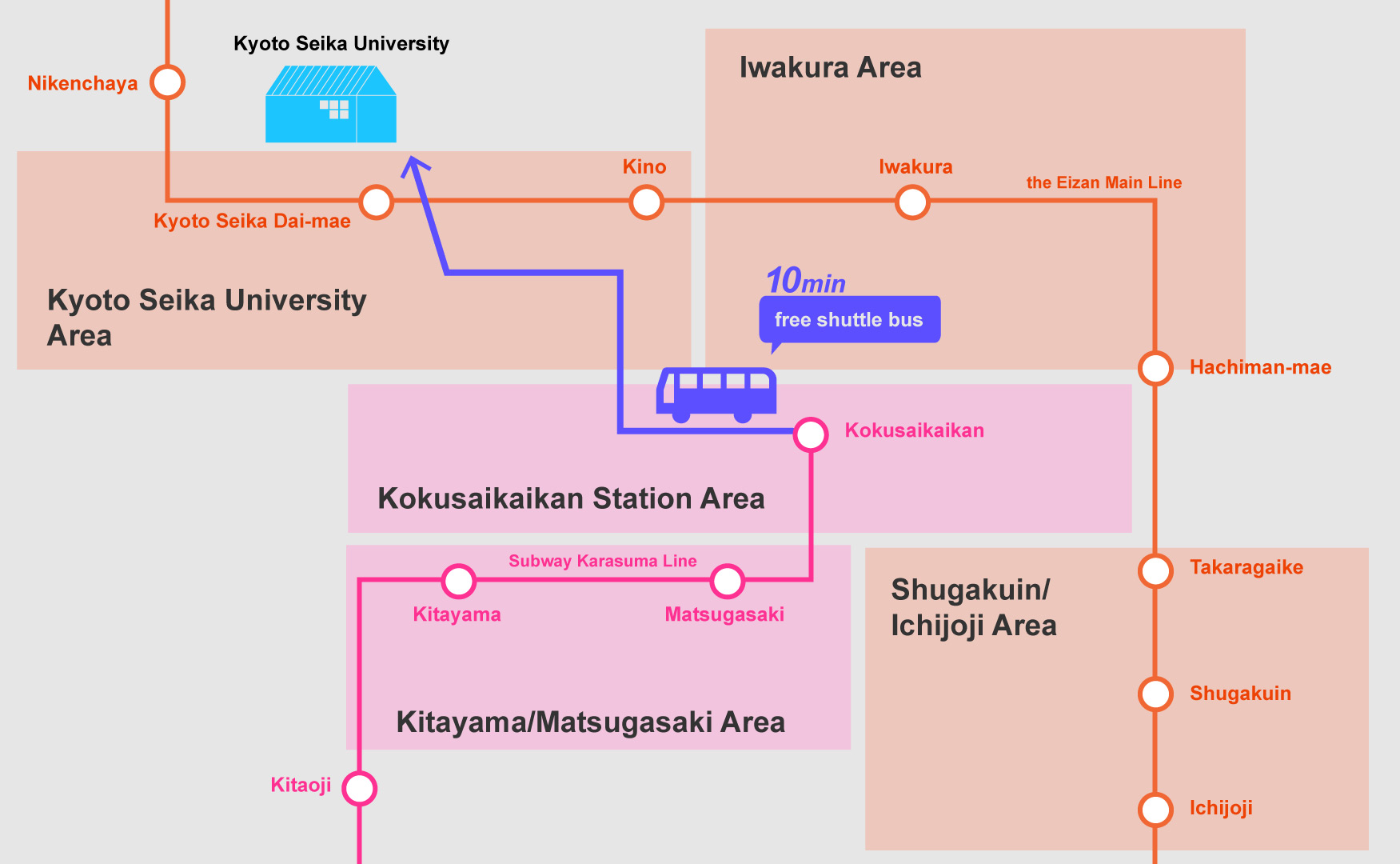 Contact (for Kino-ryo and apartments)
Flat Agency
Kitaoji Station-mae Office
43-5 Koyamakitakamifusacho, Kita-ku, Kyoto
Tel: 0120-44-0669 (toll-free)
*English, Chinese, and Korean language support also available
Opening Hours/Regular Holidays
Open 10:00 a.m.–6:00 p.m.
Closed Wednesdays (open every day in February and March)
Contact (for International Student Dormitory Shuko-kan)
Student Support Team, Kyoto Seika University (Hon-kan 1F)
Email: gakusei@kyoto-seika.ac.jp