International students account for 25 percent of the total student population at Kyoto Seika University, and many go on to seek employment in Japan. International students often feel intimidated by differences in job hunting culture in Japan compared to their home countries. Kyoto Seika University offers support to those hoping to start their careers in Japan.
On Tuesday, November 15, we held a job-hunting event that brought together fourth-year students who have already received employment offers to share their experiences and advice with third-year students on the verge of beginning their job search activities. This was our first in-person career event held exclusively for international students, which was met with great success.
Six international students who have already received job offers shared their job-hunting experiences.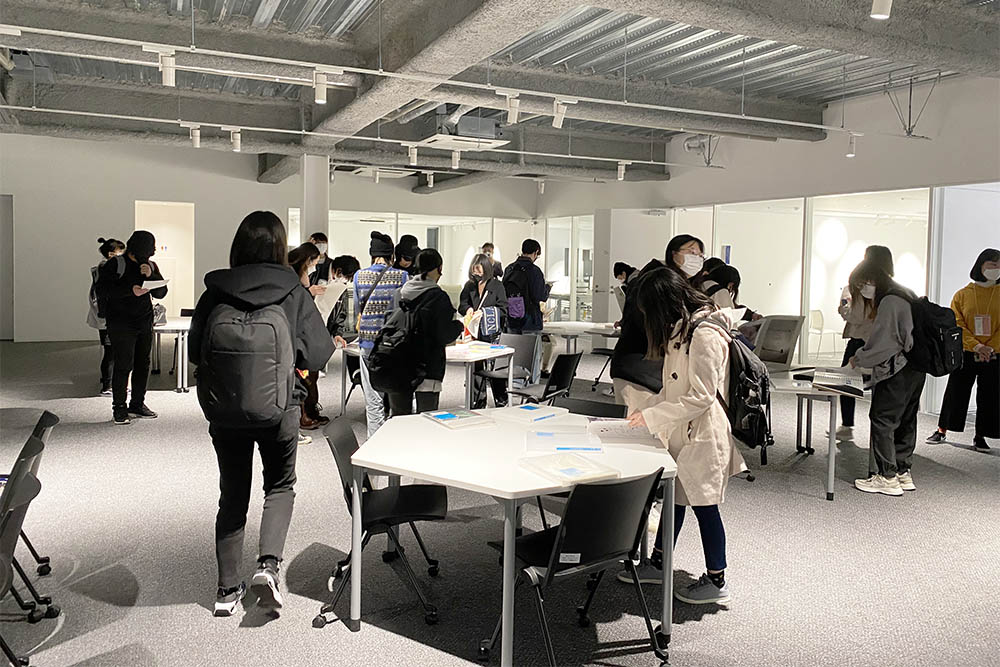 Khaliun Tsogbadrakh, who studied spatial design in the Interior and Goods Design Course in the Faculty of Design, has received an offer to work as a space designer. She will focus on interiors and displays for various stores and exhibition venues.
She started her job search in the summer of her third year, first landing an internship at a design firm. That December, she started attending information sessions offered by prospective employers, digging into what each business had to offer. At the job-hunting event, a fellow student asked how she found companies she was interested in. Khaliun replied that she had gone to the university's career support services team for guidance on companies in relevant industries.
Getting an early start with the job search process is essential, as hiring processes and start dates often vary by industry and occupation. Khaliun went on to say that job hunting in Japan is quite different from what she would expect at home, leaving her perplexed at times. Her stories struck a chord with the other international students and led to a lively Q&A session.
Khaliun's portfolio stands out for its innovative qualities. She noted, "Because so many interviews are online, it helps to have a QR code ready to scan so that recruiters can easily view your work."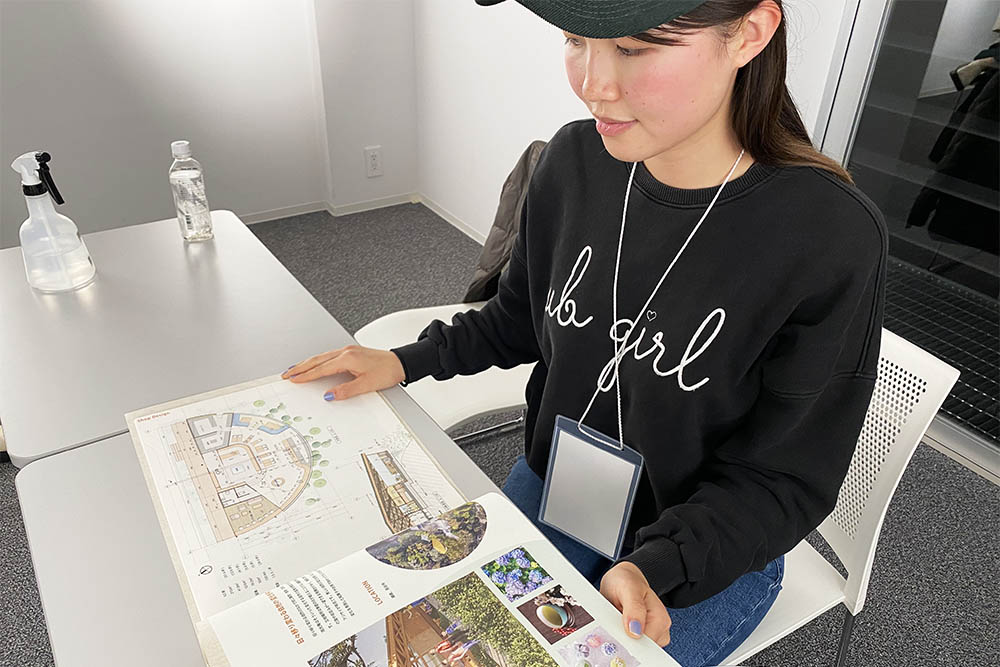 Runsheng Hua, a student in the Department of Humanities, transformed his love of mountain climbing into a job offer from a major outdoor manufacturer. He said he looked inward when it came time to decide the kind of career he would pursue and chose to search for a job that reflected his strengths and interests.
Runsheng advised the attendees on the importance of checking individual company sites in addition to major employment websites. "A lot of companies don't list their jobs on the major job search websites, so you should check their official websites for updates on a regular basis to make sure you don't miss any information about employment opportunities." Runsheng also mentioned that he encountered employment exams that required an essay written in Japanese. "I visited the career services support team several times to help me with revisions. They offered me detailed guidance that proved invaluable in preparing my job applications."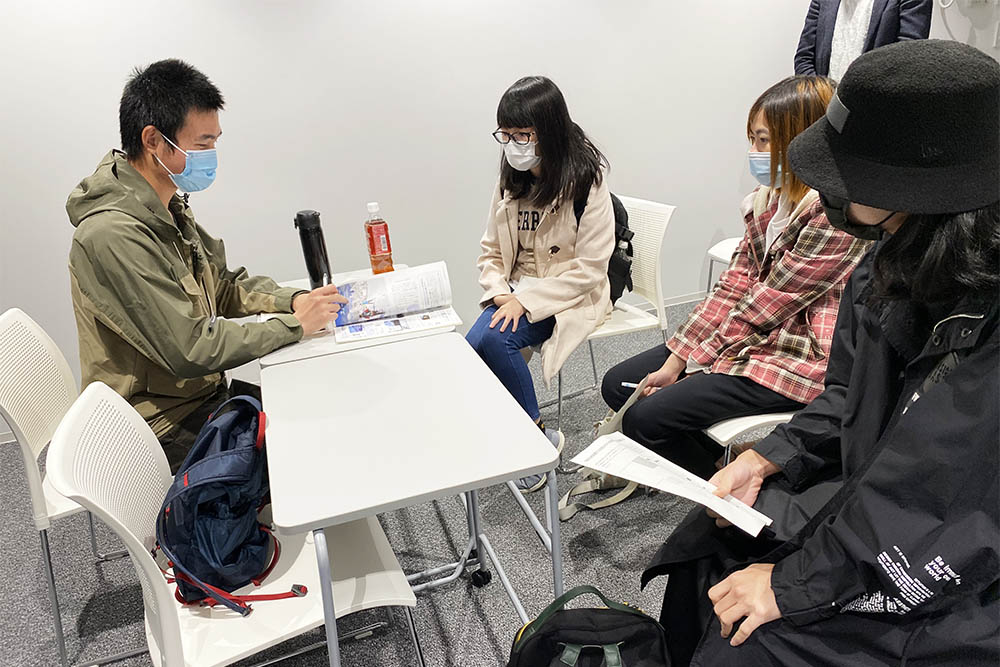 Junghwa Oh, a student in the Animation Course in the Faculty of Manga, has been offered a director role for a major animation studio.
Junghwa shared information about the breadth of opportunities available in animation. "There are many opportunities in the industry besides being an illustrator. I want to share the kind of job I'll be doing with the younger students who may not know what's out there." Junghwa dreams of directing her own work, and she plans to take advantage of the opportunities her career offers to enhance her skills going forward. She was extremely impressive, inspiring hope in attendees with a smile as she encouraged them in their future job search endeavors.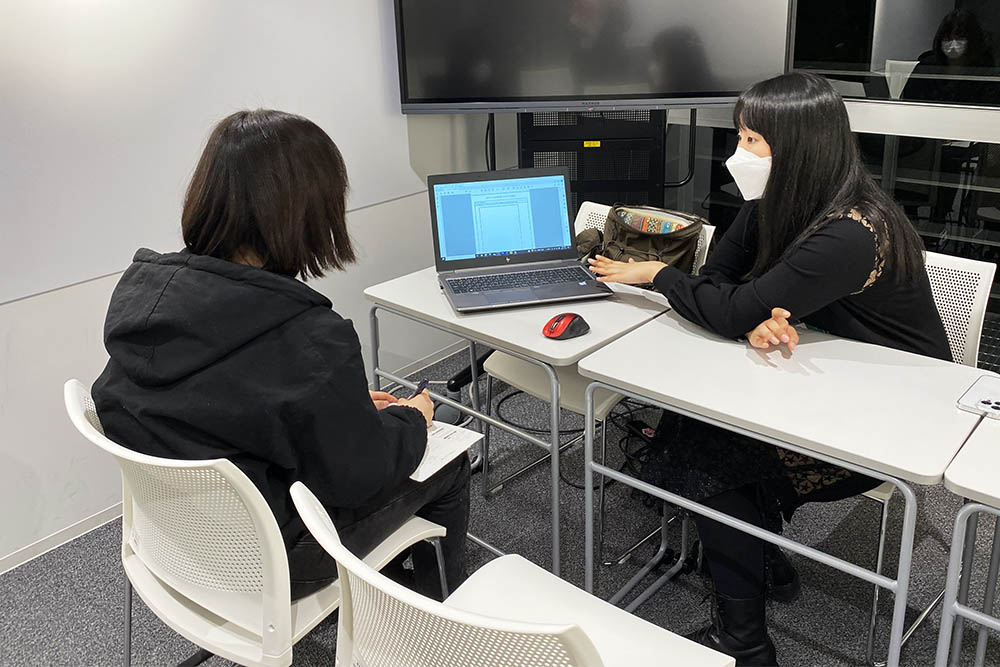 Varisara Singhasuwich found a job in manga, although perhaps not the type of manga you would expect. She's been offered a full-time position at a production studio that creates webtoons, also known as "vertical scrolling manga," a trend that is on the rise.
She hopes to apply the drawing techniques and production skills she gained from the Comic Art Course in the Faculty of Manga to her new position.
"As a full-time employee, I won't have the freedom of a freelancer, but I'm looking forward to the diverse job experience I'll get working with experts in different fields. I can't wait to get started." When looking for jobs, Varisara focused on her abilities and how she could make the most of them.
One attendee asked her the best strategy for putting together a manga portfolio. Varisara noted that she didn't expect screeners to read the whole story, so she elected to feature elements like the cover, pages with key story points, and concept art introducing the characters and story setting. "Of course, I also provided a QR code so anyone interested could dive into the entire manga," she says. Varisara offered an intriguing look at how students can arrange their portfolios based on what they want a potential employer to see.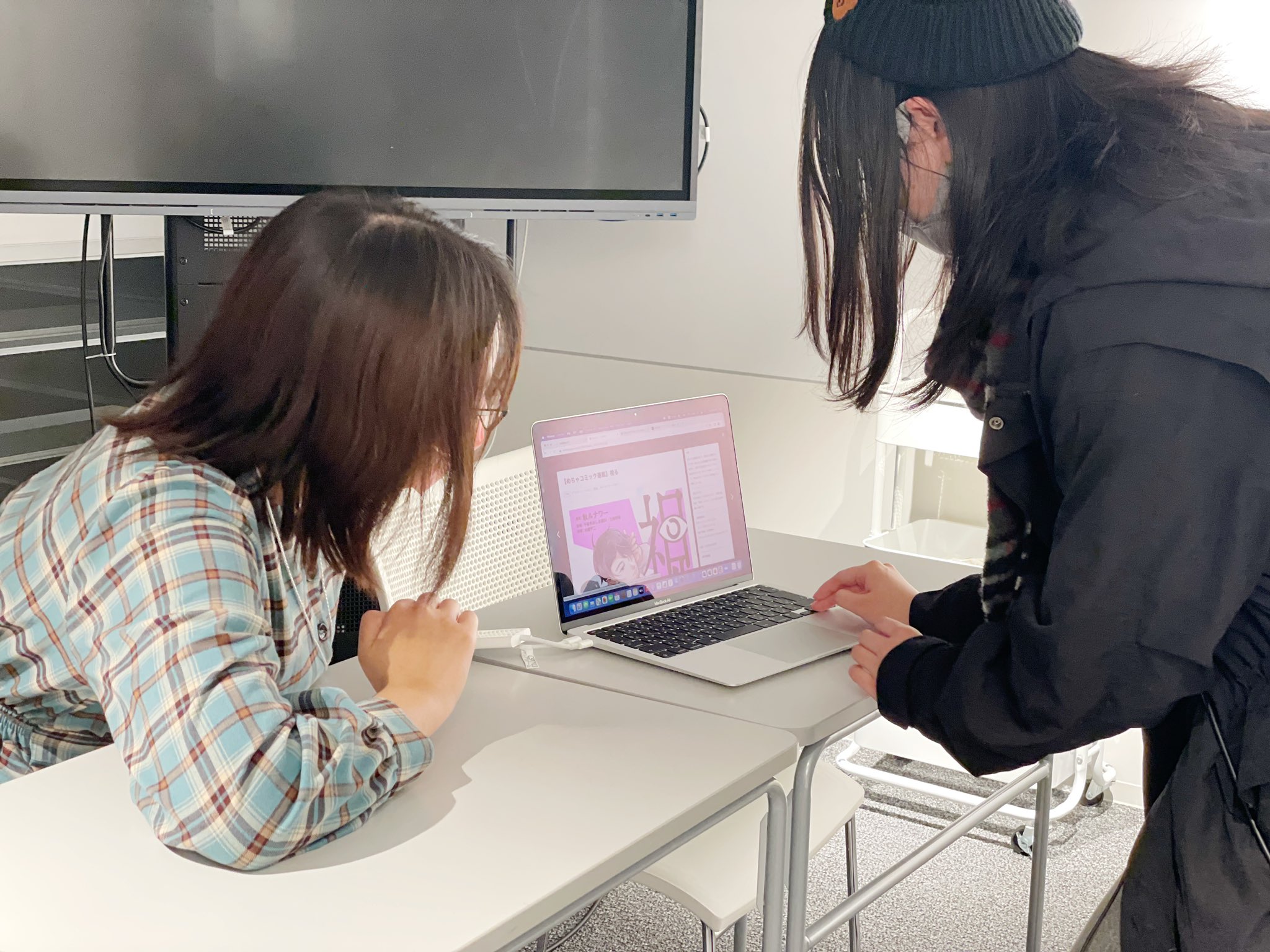 Eunhyo Choi and Soyeon Sung have both been offered positions as designers at major game companies that create very successful titles.
The two are friends from the Faculty of Manga's animation course and helped each other when looking for jobs. The gaming industry is incredibly popular, so their booth attracted a lot of visitors who were full of questions.
Many of them wanted to know more about creating a portfolio, which is often a requirement when applying for a creative position. According to Eunhyo, "You need to make sure that you get opinions from your friends and teachers, even though you might be hesitant to ask. You can't just put together a portfolio that you think is good. I made a conscious effort to step back and look at my work objectively." There were times during her job search when things didn't go well and she felt frustrated, but she overcame those challenges thanks to the support that she and her friends gave to each other.
Soyeun utilized several techniques in compiling her portfolio to best showcase the breadth of her skillset. She added, "Working at a company means being part of a team, so it's not a bad idea to include collaborative creations in addition to individual work in your portfolio." She says she showcased her role in group projects and how her ideas helped influence the work.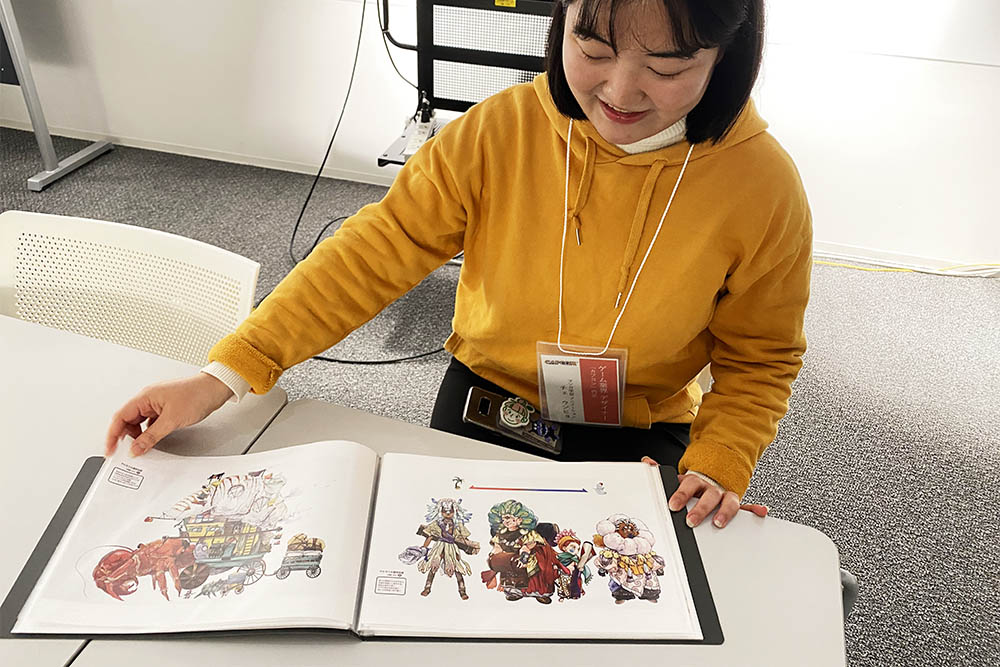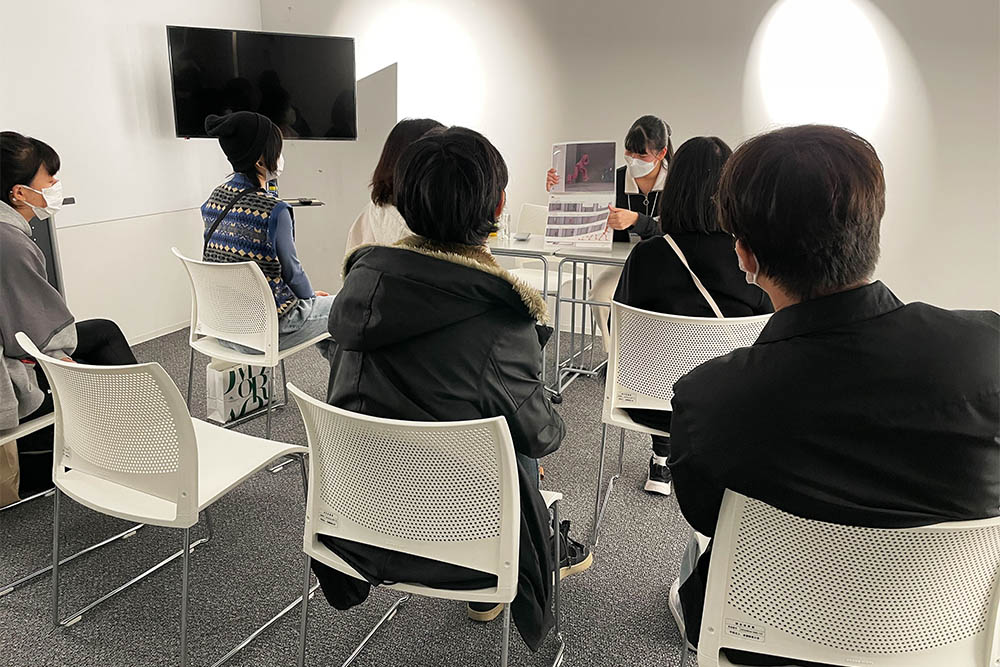 Job hunting looks quite different in Japan, so there's little doubt that this can make international students feel anxious. And our graduating class knows all too well the worries currently affecting third-year students. It was particularly impressive to see how everyone at the event was aware of the need to express themselves in their own words to future employers. It takes a lot of practice to be articulate in an interview, and one graduating senior even mentioned talking to a wall to become a better speaker.

For anyone thinking of starting their career in Japan or about to launch their job search—remember that your fellow students at Kyoto Seika University can be a great source of inspiration and insight.
CONTACT
Kyoto Seika University Office for Global Initiatives
137 Kino-cho, Iwakura, Sakyo-ku, Kyoto 606-8588 JAPAN
📞 Tel: 075-702-5199
📧 Email: kokusai@kyoto-seika.ac.jp