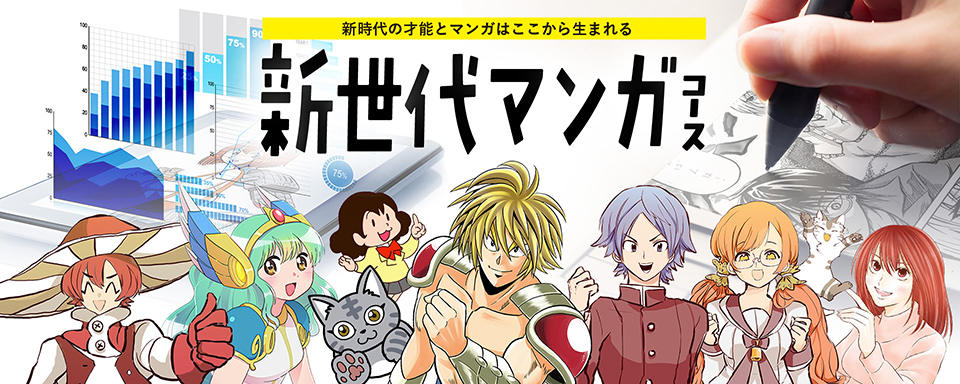 What is the New Generation Manga Course?
Making Manga a Career for Life
The New Generation Manga Course emphasizes the importance of acquiring the ability to create bestselling works on one's own, so students' careers as manga artists don't end as one-hit wonders.Self-branding is the crucial skill that makes this possible.By definition, a bestselling hit manga is one that sells more than 100,000 copies, and there are only a handful of manga artists who can produce a string of hits.Comparatively, there are many more one-hit wonders in the manga industry—the artists who suffer from their inability to produce their next hit.And since publishers and editors are always on the lookout for fresh, new talent,for the average manga artist to stay relevant and produce their next bestseller, they must study current trends and possess an allure that others do not.We call this "the ability to self-brand" at the New Generation Manga Course, and we believe it is the single most important skill for students to acquire at university. The goal is for students to learn how to create numerous bestsellers to sustain manga careers throughout their lifetimes.
Career Paths after Graduation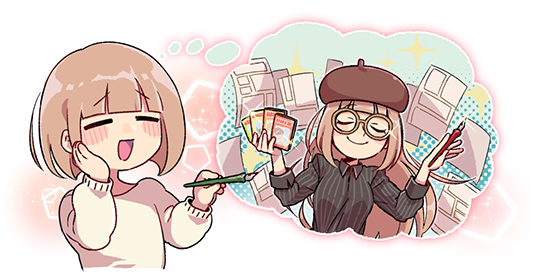 The ability to self-brand acquired in the New Generation Manga Course can be applied to many professions outside of manga.It is an instrumental skill for those who aim to become the next generation of comprehensive entertainment creators who are imaginative and skilled in composition, including manga storyboard artists, variety show writers and producers, digital editors, and gaming and content planners.
Trends in the manga industry are changing—a new era has arrived!
Your Manga, Superpowered.
It's rare to see people reading paperbacks on the train anymore.Instead, you see more and more people swiping their smartphone screens.Similarly, the circulation of manga magazines has been decreasing in recent years.At a time when more and more people are reading manga on their smartphones and other electronic devices, the ways in which manga is drawn, read, and sold are transforming dramatically.The New Generation Manga Course is Japan's first manga education program that trains artists who can adapt to these changing times.In recent years, there has been an increase in cases where manga published on websites, personal blogs, and social media have struck a chord with fans—and struck gold with book deals.Amateur works published on the internet have been printed as books and sold in bookstores, becoming sensations selling over a million copies. Manga artists can now become famous without having to debut in a manga magazine first.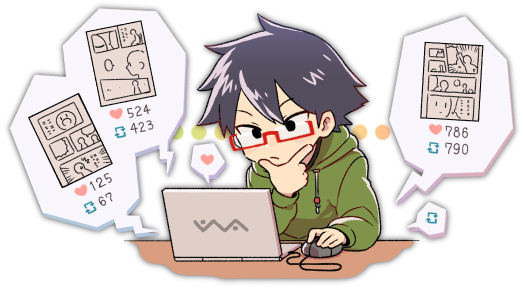 At the New Generation Manga Course, we believe that students should acquire both the creative skills of a manga artist and the practical skills of a planner, marketer, and producer.We conduct a curriculum that incorporates special lectures and tie-ups by content providers who distribute manga.
Our curriculum covers how to draw good manga and how to make it go viral on the web. It also covers tricks like thumbnails and timing to get more views; analysis and response to audience reactions that include making changes to the story, setting, and characters; and watching trends and planning strategies based on market research.We take plenty of time lecturing on the valuable know-how that only content providers have to train the next generation of manga artists.
Tsuyoshi Konoike & His Cat Named Ponta went viral after its eponymous creator, Tsuyoshi Konoike, uploaded it to Twitter. It was picked up by publishing powerhouse Kadokawa in October 2015, becoming an instant hit that sold over 700,000 copies.As of the time of this writing, Konoike's Twitter account had 1.08 million followers. With a following of this size, it is believed that simply uploading a manga to Twitter has the same effect as publishing it in a magazine with a circulation of 750,000.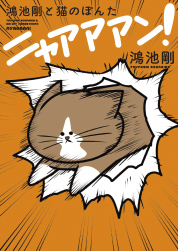 A Special Curriculum Unique to the New Generation Manga Course
New Generation Manga Artist Development Project with comico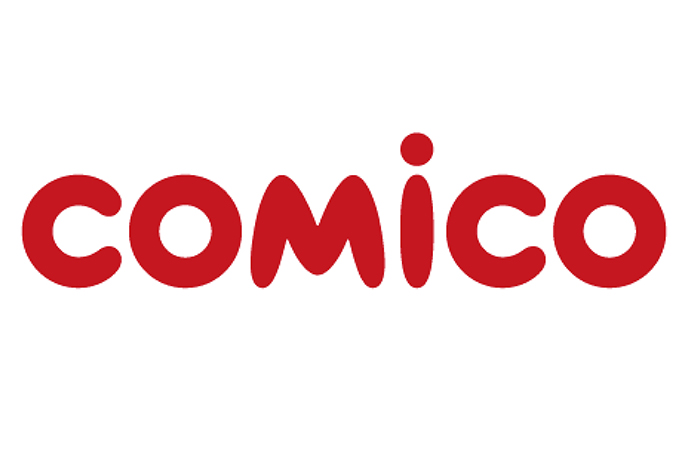 The ability to self-brand acquired in the New Generation Manga Course can be applied to many professions outside of manga. It is an instrumental skill for those who aim to become the next generation of comprehensive entertainment creators who are imaginative and skilled in composition, including manga storyboard artists, variety show writers and producers, digital editors, and gaming and content planners.
▶ comico website

Special Lectures by Torch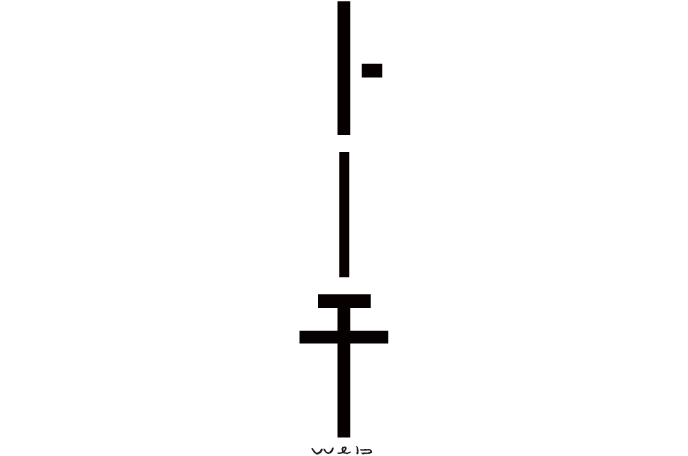 Torch is a web manga site established by the long-established manga publisher Leed to explore groundbreaking modes of expression.A special lecture focusing on manga critique will be held in search of promising artists who are pushing the envelope in the hopes that these artists can pioneer a new generation of manga.Penname (Pennemu / 辺音夢), a student from the gag manga course, made his debut at a special lecture in 2015.
Even a Beginner Can Win Best Newcomer!
The Shortest Path to Success Is Here!
It is often said that the quickest way for the inexperienced to learn to draw better and create better stories is to copy the manuscripts of successful professionals.However, experience has shown a great deal of variation between people, which begs the question of whether copying leads to competency.Why is that? We have the answer.The New Generation Manga Course has a specialized curriculum that teaches students unique techniques to create memorable characters, come up with new ideas, develop and direct a story with the reader in mind, and the dos and don'ts of panel composition.Some students who were near beginners when they entered university improved so much that they won the Newcomer's Award in just four years. This kind of curriculum is indispensable for turning students into creators.
The act of copying a professional writer's manuscript every day is like swinging a baseball bat alone 300 times a day.Yes, you might gain muscle strength.However, that alone is not enough to join the major leagues.Sports are win-or-lose against real opponents.While strength is also required to win, you also need theory, experience, and flexible thinking to keep up with your opponent in a match.In manga, it's the same—artists face serious competition with their audience.In addition to the ability to draw well, artists must also have theory and experience to attract a readership. Specifically, they must learn to tell a story that exceeds the readers' expectations with attractive characters and direct the narrative in a way that hooks them.The New Generation Manga Course also incorporates and builds on a longstanding Comic Art and Gag Manga course curriculum.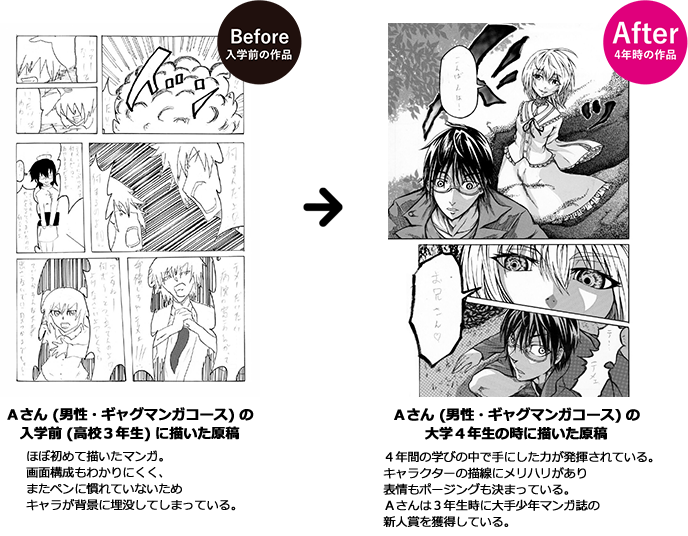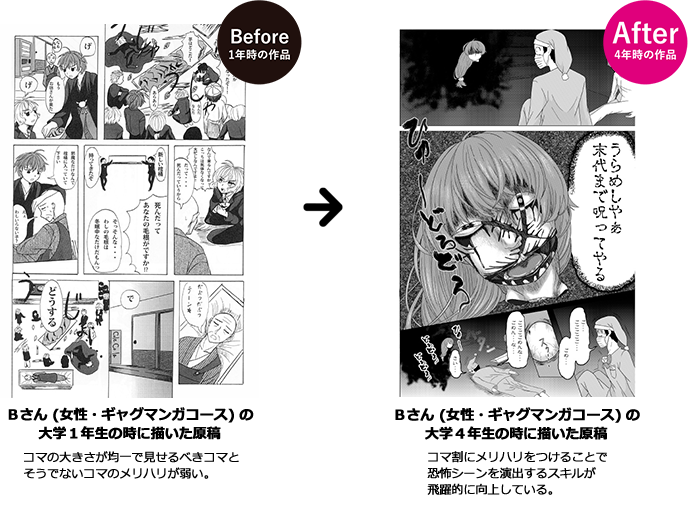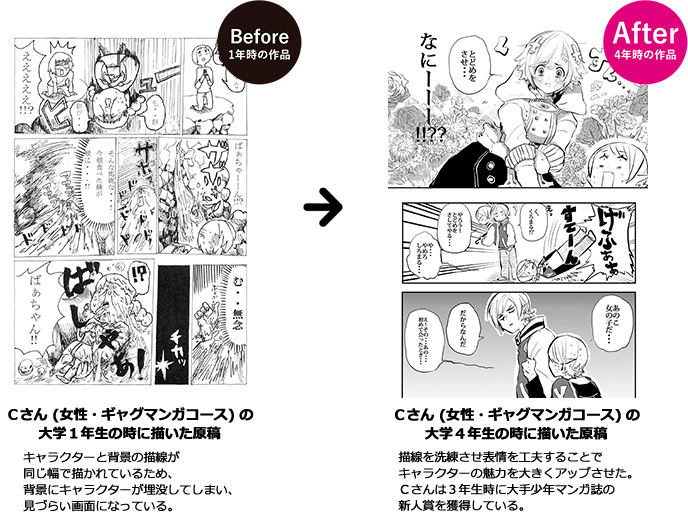 Tradition & Achievement—We Have Both.Our Alumni Are Leaders in Manga!
A Worthy Education at Kyoto Seika University.
Unlike genres such as novels, films, and music, manga has yet to sufficiently establish its theories and methodologies,and manga artists hardly ever reveal their secret recipe for success. For this reason, the training of new manga artists tends to rely on the individual skills of the person teaching.Even so, Kyoto Seika University, as a center for manga education and research, has been accumulating knowledge and expertise in the field over the past 16 years.Many of our alumni have had hits that have been serialized or made into animated series or live-action movies, and the core competencies made at Kyoto Seika lie at the heart of their success.
Special Site for the New Generation Manga Course(in Korean / in Chinese )
Subject Highlights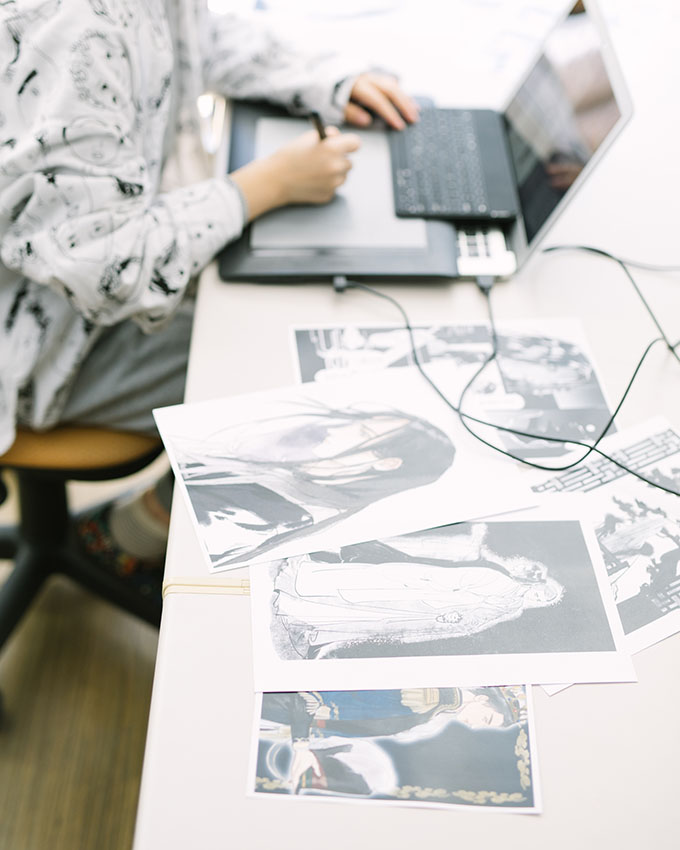 The course holds guest lectures by editors and writers currently pioneering a new generation of manga culture.
Storyboard Drills and Practice (Year 1): Students learn the basic skills required to draw manga.There are also lectures by manga app editors and critiques by publishers who run online manga platforms.Students also have opportunities to experiment with putting their work online under the guidance of a manga artist who has found popularity using social media.

Students use social media to reach a larger audience.
Comprehensive Lecture on New Generation Manga (Year 2): Today, there are increasing numbers of artists who gain a large fanbase and earn their income by posting their works to social media and other online platforms.Students learn how to ride this new wave of technology and use the internet to further their creative process.There will also be special lectures by manga artists who have succeeded on social networking sites.
Four-Year Course of Study
Year 1: Basic Skills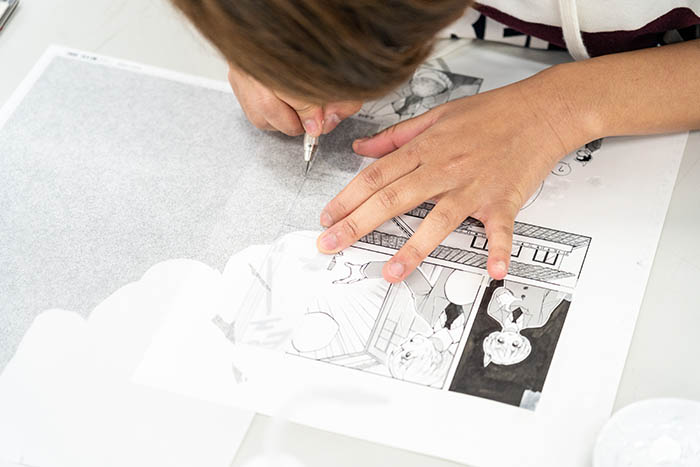 Students study basic drawing skills, such as storyboard creation, pen techniques, and other essential skills for drawing manga.Moreover, students learn the basics of digital art to build a foundation for drawing manga in the future.
Year 2: Applied Skills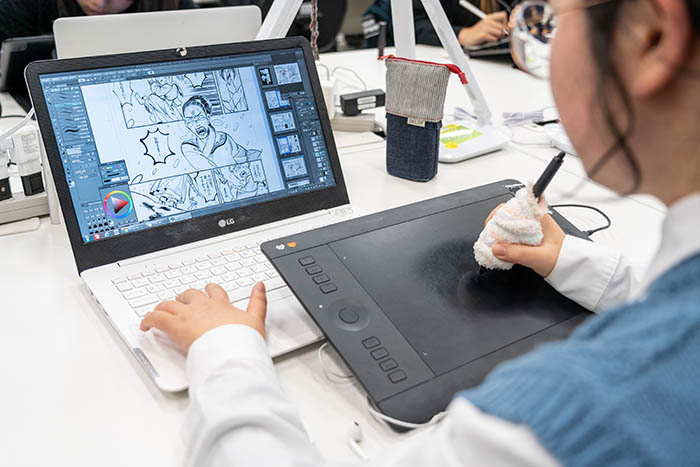 In their second year, students learn how to create manga as entertainment with the reader in mind.They also learn the basics of research, interviewing, planning, and marketing by drafting and presenting their work.
Year 3: Practical Skills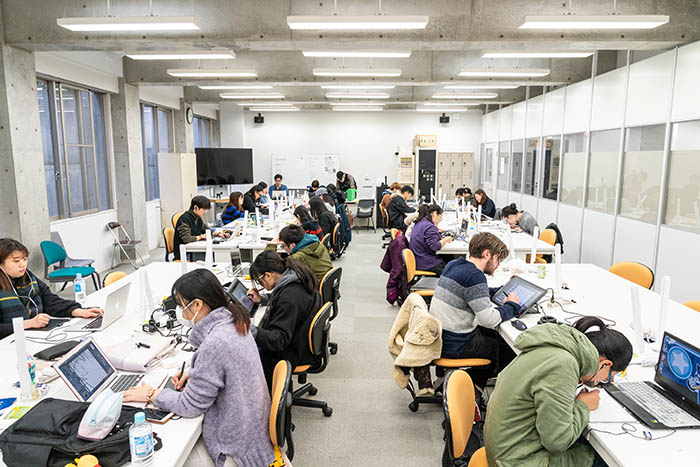 Students choose a seminar that matches their interests and future goals to further deepen their technical, expressive, and presentation skills in their third year.Students also present their works in the media and gain self-branding experience by applying their skills in practice with the future in mind.
Year 4: Integrated Skills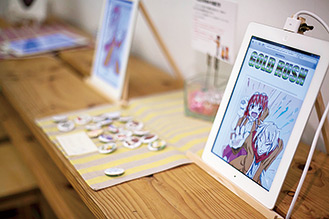 Students are divided into seminars, where they expand on practical skills from their third year and work on their graduation project, the capstone to four years of study.Faculty members in each seminar support students aspiring to become manga artists and encourage them to make their debut while still enrolled at university.
Voice
NISHIGAMI Mana

Current Student

Honing the ability to reach an audience for my manga

When I was looking for a place to study to become a manga artist, I came across a lecture by Professor TANAKA Keiichi on the future of manga artists at Kyoto Seika's open campus.His explanations of how manga artists can use self-branding and social media as a tool to make manga go viral were extremely straightforward. Ultimately, this is what convinced me to enroll at Kyoto Seika.I also love the digital world, so I really feel like I fit in with the New Generation Manga Course, which specializes in digital art and web manga.One of the most exciting classes I've taken recently was a class on drawing manga for Twitter.Unlike a book where readers turn the pages horizontally, manga on Twitter scrolls vertically,so I was able to learn a bunch of practical tips and tricks to use, like drawing vertically-scrolling manga meant to be read on a smartphone.It's also fun and refreshing to study in an environment with so many international students who have come to study manga.I feel like I am able to exchange different values and opinions with my peers, which helps me add depth to my work.Since coming to Kyoto Seika, I really feel that I have improved my presentation and communication skills.Through group assignments and other activities, I have honed my ability to understand others and explain things in my own words.I'm still just a freshman, but I'd like to continue growing and publish my own manga while I'm at university.

TANAKA Keiichi

Academic Faculty

Learn how to reach the world through manga.

The New Generation Manga Course is a place to learn the techniques and methods to draw interesting manga and the know-how to promote your work worldwide using social media.The manga industry is in the throes of disruption, but faculty members can provide the latest insights from their experiences as leaders in their respective fields.I'm proud to say that the New Generation Manga Course is the only place in the world where you can receive such an education.I myself am an artist in the industry,so I am constantly seeking out and analyzing interesting manga—the rules of their structure, production, and characters—all of which inform the work that I publish.As a faculty member, my job is to use what I have learned through research to give students immediate feedback on examples of success.By doing so, I hope to train the next generation of manga artists and creators.The fascinating thing about manga is that the artists themselves can do anything they want. They can be planners, scriptwriters, protagonists, art designers, directors, and producers, all at once.I believe that manga is the highest form of creative expression that any one individual can achieve.To anyone who wants to entertain the masses, or deliver their message through manga, or are interested in new forms of entertainment using social media and other digital means.The experience of a lifetime awaits you here at the New Generation Manga Course.