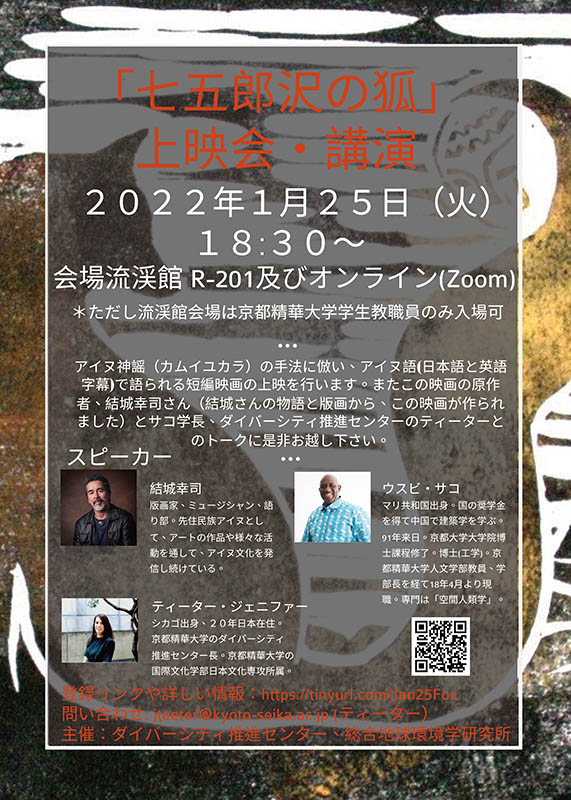 Join us for a screening of the Ainu film, "Sicigorousawa un Cironnop," and a talk by the author and producer Koji Yuki, whose woodblock prints inspired the film. The talk will be between Kyoto Seika University President Oussouby Sacko and Center for Diversity Chair and Inclusion Jennifer Teeter.
(Subtitles in English and Japanese)
THE FOX OF SHICHIGOROSAWA: An Ainu production short film screening and talk
Tuesday, January 25, 2022
Doors open:18:00
Event start:18:30
*Free of Charge
Ainu (original) title: Sicigorousawa un Cironnop
English title: the Fox of Shichigorosawa
Japanese title:七五郎沢の狐
Please register at the link below by noon on January 25th
You will be emailed a Zoom URL after registering.

Event sponsors:
Kyoto Seika University Center for Diversity and Inclusion
Research Institute for Humanity and Nature
Biography:
KOJI Yuki (Producer, Author, Art director)
A woodblock print artist, musician, and storyteller, Koji Yuki was born in Kushiro, Hokkaido in 1964. As an Ainu, the indigenous people of the island of Hokkaido, Koji actively addresses the issues surrounding indigenous peoples' rights in both his artistic work and beyond. In 2008, Koji served as Secretary General of the Indigenous Peoples Summit in Ainu Mosir (Hokkaido), in which 24 ethnic groups from 11 countries were invited to participate, and delivered a recommendation to the G8 Summit that year. He is also the leader and vocalist of Sapporo-based rock band, the Ainu Art Project, formed in 2000 to engage young people with Ainu culture.
Dr. Oussouby Sacko
President, Kyoto Seika University:Born in the Republic of Mali. He received governmental sponsorship to study at the Beijing University of Language and Culture, and Southeast University in Nanjing. After coming to Japan in 1991, he earned a PhD in architecture at Graduate School of Engineering, Kyoto University. In 2001, he was appointed as a lecturer in the Faculty of Humanities of Kyoto Seika University and promoted to full Professor in 2013. In 2018, he was elected as the President of the University. Focusing on topics such as living space, Machiya reproductions in Kyoto, community regeneration, and preservation and renovation of world cultural heritages in Western Africa, his research explores the relationship between society and architectural space. He was the 2020-2021 recipient of the Africa Diaspora Network Japan (ADNJ)
Award.
TEETER Jennifer Louise
Born in Chicago, and residing in Japan for 20 years, Jennifer Louise Teeter is the current chair of Kyoto Seika University's Center for Diversity and Inclusion, and is a lecturer on Japanese Culture in the Faculty of Global Studies.
CONTACT
Kyoto Seika University Center for Diversity and Inclusion
📧 Email: jteeter@kyoto-seika.ac.jp