Training globally-minded artists, creators, and researchers through practical approaches in an environment without borders
Kyoto Seika University was established in 1968 on the founding principles of great respect and regard for humanity and today strives to be a university where individuals learn to become independent, contributing members to society through academics and the arts.
The graduate programs at Kyoto Seika University provide students with practical programs and a unique environment to engage in deeper study of specialized subjects beyond the undergraduate level and drive expression and cultural development.
Joint introductory classes shared across all four graduate schools
Kyoto Seika University has four graduate schools: the Graduate School of Art, the Graduate School of Manga, the Graduate School of Design, and the Graduate School of Humanities.
One of the defining characteristics of our graduate education is an environment in which artists and researchers alike can come together to interact with and learn from one another, no matter their graduate school or field of study. From the fundamental thought behind expression and philosophy to applied social projects, students can build a foundation for creative expression that can be applied to any field.
An environment where artists and researchers can inspire one another
Another characteristic of our graduate programs is that practicing artists and theoretical researchers study together, side by side. By understanding each other's methodologies, intentions, and backgrounds, they can extend the breadth and depth of their creativity and analysis. Moreover, a system of joint instruction in practice and theory provides support from both technical and theoretical perspectives.
Direct access to expertise from leading artists and professionals
A variety of lectures, practicums, and projects provide students access to academic faculty at the forefront of their fields, including artists, curators, designers, architects, manga artists, and researchers. Students benefit from this direct professional guidance in fields of expression that include art, design, manga, and literature, which then informs their own research and expression.
A global perspective in an international learning environment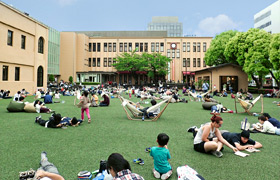 About 80% of our graduate students are international students, coming from places like neighboring China, Korea, and Taiwan and countries in Europe and North and South America. We offer an international research environment that invites students from a variety of countries and regions to come and exchange their perspectives. There are also plenty of opportunities for students to present their work at conferences and exhibitions abroad.
Tradition and innovation in the historic and cosmopolitan city of Kyoto
Kyoto Seika is the world leader as a research institute for manga and animation. We are also receiving global attention for our research and environment where scholars work with art and design integrating Kyoto's historical and traditional innovation, and engage progressively with Kyoto's environmental policies and social infrastructure We also jointly manage the Kyoto International Manga Museum with Kyoto City, which continues to attract attention as a research center for Japanese manga.